---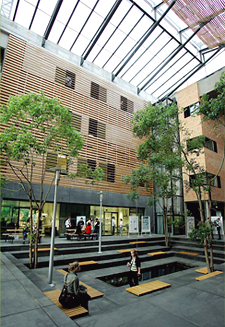 For interested people / How to apply
Welcome!
If you are seeking information about the international master program "Molecular and Cellular Biosciences" at the Martin-Luther University Halle-Wittenberg, please, visit the link below and/or have a look at the flyer.
Flyer MSc Molecular and Cellular Biosciences - study program
Flyer Molecular and Cellular Biosciences 2021-11-29.pdf (6,1 MB) vom 09.12.2021
Flyer MSc Molecular and Cellular Biosciences - MLU
Flyer MSc Mol Cell Biosci 120 MLU 2021-04-21.pdf (369,3 KB) vom 09.12.2021
About the study program
Briefly:
Aims
The international Master program Molecular and Cellular Biosciences at the Martin Luther University Halle-Wittenberg aims at providing a broad theoretical and methodological understanding of cellular functions at the molecular level, enabling students to acquire a comprehensive knowledge in one or more areas of molecular and cellular biology. The study program is designed to broaden and develop the students' ability to work systematically and scientifically, and to train logic-based analytical thinking in order to enable them to carry out scientific research independently in the molecular biosciences.
Students will acquire knowledge in recognizing and identifying scientific problems, developing structured approaches to address these scientific problems, to solve key questions experimentally and ultimately expand our knowledge of the subject area. In a collaborative and problem-oriented manner, students will be trained in working as a team with colleagues from different disciplines and to apply basic knowledge in a practical way. The study program is strongly research-oriented and both, courses and examinations, are held in English.
Compulsory modules (75 CP)
Fundamentals in Molecular and Cellular Biosciences (introductory)
Research internship
Project study
Research project module (Master thesis)
Elective modules (45 CP)
B1 – Offered by the Institute of Biology (minimum of 30 CP):
Developmental Biology
Molecular Animal Physiology
Molecular Genetics of Root Nodulation Symbiosis
Molecular Mechanisms in Developmental Genetics
Molecular Microbiology
Molecular Physiology of Microorganisms
Molecular Phytopathology and Plant Immunity
Molecular Plant Physiology
At least 30 CP must be obtained from the elective B1 modules.
B2 – Offered by other Institutes (maximum of 15 CP):
Molecular Physiology of Plant Nutrition and Crop Yield
Nucleic Acid Biochemistry
Plant Biochemistry
Cell Biochemistry and Virology
A maximum of 15 CP can be obtained from elective B2 modules.
Career opportunities
Graduates of the study program will become qualified to identify, address and solve problems successfully in a university, research institute-based, industrial or administrative environment.
Note:
Applicants for the MSc Molecular and Cellular Biosciences 120 CP must
hold a bachelor's degree or equivalent degree in in a bioscience-oriented study program and
prove good knowledge of written and spoken English (about 70% of the achievable maximum).
English language proficiency must be proven via a language certificate (Unicert II, TOEFL, IELTS, Cambridge Certificate, German Abitur or an equivalent internationally recognised language certificate) attesting level B2 according to the Common European Framework of Reference for Languages (CEFR). English language proficiency is deemed to be proven if the first degree was obtained in a study program taught in English.
Comprehensive knowledge of molecular biology, biochemistry, genetics and physiology is fundamental. Furthermore, basic knowledge in the basic scientific subjects (i.e. chemistry, physics and mathematics) is essential. Recognition is decided by the Selection Committee, which can impose conditions if necessary.
How to apply
The admission to MSc Molecular and Cellular Biosciences 120 CP is currently restricted (Uni-NC).
Applicants who obtained their bachelor's degree (or equivalent) in Germany must apply via www.uni-halle.de/bewerben until 15 July (for winter semester) or 15 January (for summer semester), respectively.
Applicants who obtained their bachelor's degree (or equivalent) abroad must apply via www.uni-assist.de until 30 April (for winter semester) or 31 October (for summer semester), respectively.
Applications at uni assist are usually open March/April for the winter term and September/October for the next summer term). For request regarding your application at uni assist, please contact uni assist.
Required documents
Besides the application for admission, all applicants are required to submit the following documents:
a certified hard copy of the bachelor's degree or an equivalent degree certificate (If the documents had not been issued in either German or English, please provide official translations.),
proof of relevant previous knowledge acquired at a university in accordance with the Regulations governing the Selection Procedure for the international master's program Molecular and Cellular Biosciences 120 CP (Selection Regulations) in the currently valid version, and
proof of English language proficiency (see admission requirements).
Applicants who are only able to submit the bachelor's degree (or equivalent degree) certificate after the application deadline, might apply with a provisional graduation certificate, respectively the semesters' transcripts (i.e., the modules and grades overview of at least 2/3 of the overall performance to be achieved in the studies). The final graduation certificate should be submitted with the enrollment at university, for enrollment for the winter semester, however, not later than 31 January of the following year, for summer semester not later than 31 July of the year.
Fulfilment of the admission requirements does not constitute a claim to a study place for this program.
After your application
If you have applied at uni assist (international applicants), your documents will be transferred to the Enrollment Office of the Martin Luher University after the deadline (April 30 or October 31, respectively).
After a formal examniation, your application documents will be forwarded to the selection board in early January or early July, respectively.
(For requests, please contact uni assist or enrolment@verwaltung.uni-halle.de)
The selection board will evaluate your documents and achievements and the ranking will be transmitted to the university's enrollment office.
You will receive the notification about your admission or rejection by the enrollment office by mid-February or mid-August, respectively.
Despite your desire, please refrain from inquiries about the status of your application to the Office of Student Affairs.
---
---