Dormancy and energy conservation in Streptomyces spp.
AG Sawers Streptomyces 2018
Like many other soil-dwelling and 'obligately aerobic' bacteria, the filamentous gram-positive, spore-forming streptomycetes are faced with a dilemma when oxygen becomes limiting or is absent. How do they maintain viability and a membrane potential?
These bacteria are able to survive for considerable periods of time without oxygen but they do not grow. This means that they modulate their energy demands and presumably enter a form of 'stasis', re-routing metabolism to ensure maintenance of a membrane potential. The large (> 8 Mbp) genome of Streptomyces coelicolor encodes numerous predicted 'oxidoreductases' of unknown function. Along with these, it also encodes three respiratory nitrate reductases that are synthesized and active at different times, and in different 'tissues', during growth. One is synthesized and active in spores, a second is active in growing mycelium and the third is induced in older, stationary-phase mycelium. The nitrate reductases appear to contribute to 'survival' when oxygen becomes limiting and electron flow through the respiratory chain is diverted to these enzymes to allow reduction of nitrate instead of oxygen. This electron flow is at a low level and insufficient to support growth. When oxygen re-appears then the electron flow is re-channelled to one of two terminal oxidases present in the mycelium. It is conceivable that many of the predicted oxidoreductases of unknown function might offer an alternaive route for electron flow when other electron acceptors are present. We are interested in understanding the interplay between the nitrate reductases and the terminal oxidases with respect to synthesis and function.
While the spores of streptomycetes are unable to remain vital for as long as the endospores of Clostridium or Bacillus species, nevertheless, they survive for decades if maintained in an appropriate environment. We are interested in understanding how they maintain a membrane potential for these long periods of time and how metabolism is re-routed to enable germination of these spores into actively growing mycelium. These studies will help us understand the processes underlying dormancy.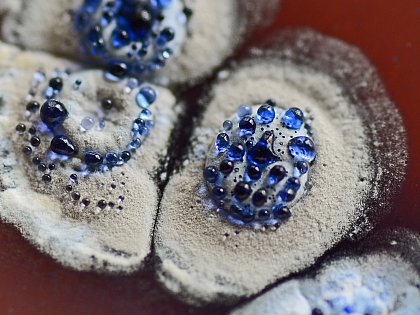 Streptomyces coelicolor
---
---