Organelle specificity of nuclear encoded proteins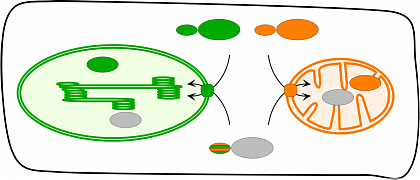 General import pathway of nucleus encoded organelle proteins
Plant cells contain two energy conversion organelles, namely mitochondria and chloroplasts. Both are the result of two consecutive endosymbiotic events in which a host cell successively took up the prokaryotic ancestors of these organelles. The establishment of mitochondria and chloroplasts was in both cases accompanied by a massive transfer of genes, predominantly from the endosymbiont to the host nucleus. As a consequence of this, many proteins encoded by such genes have to be transported "back" into the respective organelle after their synthesis. For this purpose, the nucleus encoded organelle proteins are synthesized in the cytosol as precursor polypeptides carrying N-terminal transport signals (presequences, transit peptides, respectively) that comprise the entire information for organelle targeting and import. In most instances, this transport is monospecific, i.e. a given protein is imported specifically into either mitochondria or chloroplasts. However, in the past years a number of proteins were identified which show a dual targeting behavior, i.e., they are imported into both endosymbiotic organelles. Despite that, a function of proteins with dual targeting behavior within both organelles cannot easily be attributed. There exists a lot of open questions, e.g. the mechanism of dual targeting, the intra-cellular sorting of dual targeted proteins and the differences between dual and monospecific transit peptides.
In our working group we established a systematic approach to identify potential candidate proteins with dual targeting behavior (in silico). Selected candidate proteins are subsequently analyze by protein transport experiments employing both isolated intact chloroplasts and mitochondria (in organello) as well as transient transformation assays using suitable fluorescent reporter constructions (in vivo).
Our aim is to apprise the number of the abundance of proteins with dual behavior, which recognize both endosymbiotic organelles as target. Additional, we evaluate the obtained results with respect to the evolution of endosymbiotic organelles, and cellular mechanisms.
Project specific publications - Peer-reviewed journals
Langner U, Baudisch B, Klösgen RB (2014) Organelle import of proteins with dual targeting properties into mitochondria and chloroplasts takes place by the general import pathways. Plant Signal Behav doi: 10.4161/psb.29301 link

Baudisch B, Langner U, Garz I, Klösgen RB (2014) The exception proves the rule? Dual targeting of nuclear encoded proteins into endosymbiotic organelles. New Phytologist 201(1):80-90 link
Baudisch B, and Klösgen RB (2012) Dual targeting of a processing peptidase into both endosymbiotic organelles mediated by a transport signal of unusual architecture. Mol Plant 5,494-503 link
Cho K, Han Y, Woo JC, Baudisch B, Klösgen RB, Oh S, Han J, and Han O (2011) Cellular localization of dual positional specific maize lipoxygenase-1 in transgenic rice and calcium-mediated membrane association. Plant Sci 181,242-248 link
Rödiger A, Baudisch B, Langner U, and Klösgen RB (2011) Dual targeting of a mitochondrial protein: The case study of cytochrome c1. Mol Plant 4,679-687 link
Rödiger A, Baudisch B, and Klösgen RB (2010) Simultaneous isolation of intact mitochondria and chloroplasts from a single pulping of plant tissue. J Plant Physiol 167,620-624 link
Staiger C, Hinneburg A, and Klösgen RB (2009) Diversity in degrees of freedom of mitochondrial transit peptides. Mol Biol Evol 26,1773-1780 link
---
---