Location, social program
and transport
LOCATION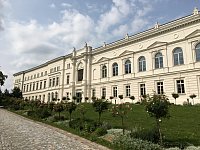 The conference will be held at the German National Academy of Sciences Leopoldina in Halle (Saale). The National Academy promotes science and initiates discussions about key topics of significance for the welfare of society. Founded in 1652, the Leopoldina is the oldest academy for medicine and natural sciences in the world and is located in Halle (Saale) since 1878. It is funded by the German federal government and the federal state of Saxony-Anhalt.
The main building on the Jägerberg ("hunters' hill") was bought in 2009 by the Leopoldina and was intensively refurbished. The building contains a spacious banquet room, a second auditorium and several seminar rooms and is regularly the venue of international conferences.
Address:
Leopoldina
Jägerberg 1
06108 Halle (Saale)
SOCIAL PROGRAM
Participants are invited to choose one of three parallel social activities:
Visit of Moritzburg

(fortified castle/art museum)
State Museum of Prehistory

(Nebra Sky Disc)
TRAVEL DIRECTIONS
Arrival by plane (airport Leipzig / Halle)
Follow the signs to the "Flughafenbahnhof" (airport station) and take the train for Halle-Hauptbahnhof (main station). You will reach Halle-Hauptbahnhof within 14 minutes.
current timetable: https://www.havag.com/
Tickets: vending machine on platform.
Arrival by train (Halle Hauptbahnhof)
From the main station, take the tram No. 7, direction "Kröllwitz", exit at stop "Moritzburgring". Turn left on "Moritzburgring" until you reach the Leopoldina on the right hand side. Tram tickets are available at ticket vending machines or in the tram. For more information about timetables and ticket prices, go to the website of the local tram company HAVAG.
---
---